Our Client Base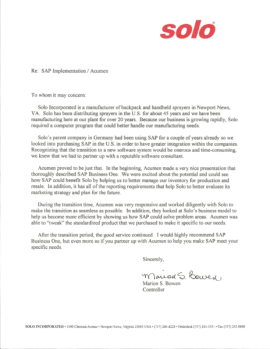 "After the transition period the good service continued.  I would highly recommend SAP Business One, but even more so if you partner up with ACUMEN to help you make SAP meet your specific needs."
Marion S. Bauer
Controller
Solo USA Inc
Some of our satisfied clients include:
A leading domestic computer manufacturer, operating from a modern campus located outside of Washington, D.C.  They design, manufacture, distribute and support their products from this single location, substantially with their primary ERP software, SAP Business One.
An industrial outdoor equipment manufacturer and distributor of chemical applicators, chain saws, trimmers and brush cutters, and air blowers to name just a few of their products, using our Inventory Optimization software offering.
An international wine producer, and recipient of the 2013 Lifetime Achievemet Award presented by Wine Enthusiast Magazine.  Production extends over more than 4000 hectare of land, 2000 of which are covered with vineyards, assisted by SAP Business One ERP software.
A U.S. affiliate of the world's largest water treatment engineering company. With a rich history dating back to 1894, they provide high performance solutions that result from the latest technological advancements in drinking water, wasetwater and sludge treatment, with the help of SAP Business One software.
A small printing and office supplies and equipment distributor in Richmond, Virginia, relies on CRM software from SAP Business One.
A regional CPA firm who provides audit, accounting, tax and advisory services to individuals and businesses and other professional services firms, and tracks them with our CRM solution.
Our consulting experience, methodologies, and recommended software work well across varous industries.
Client Industries
We have proudly served clients from a wide range of industries, including:
Wholesale Distribution
Manufacturing
Wineries and Vineyards
Healthcare Facility Financial Management
Professional Services
Electronics