Service – Our Guiding Principle
Consulting Services – No Product Sales
With technology and offerings changing so rapidly, it may be difficult to know what products to choose and which direction to take in the resources planning world.  We've had a great deal of exposure — we see what is working and what is just a lot of work.
We can help you make choices.  We offer enterprise management consulting services to strengthen your infrastructure and the related technologies you may already use, whether it's ERP managment, ERP system design, ERP manufacturing (MRP), Inventory tracking systems, or accounting software.
We can assist in hardware or software selection, environmental systems set up such as networking and communications, or server systems.
We consult to a diverse range of clients in various industries. Some of our important practice areas are listed below.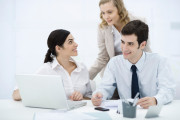 From business process to developing strategies, we offer significant consulting expertise to our clients.
Implementation and Integration of ERP solutions
Certified Public Accountants
SAP Business One Certified Consultants
Citrix Certified Services
Microsoft Certified Services
IBM Best Team Certified