TemperPack Technologies Inc.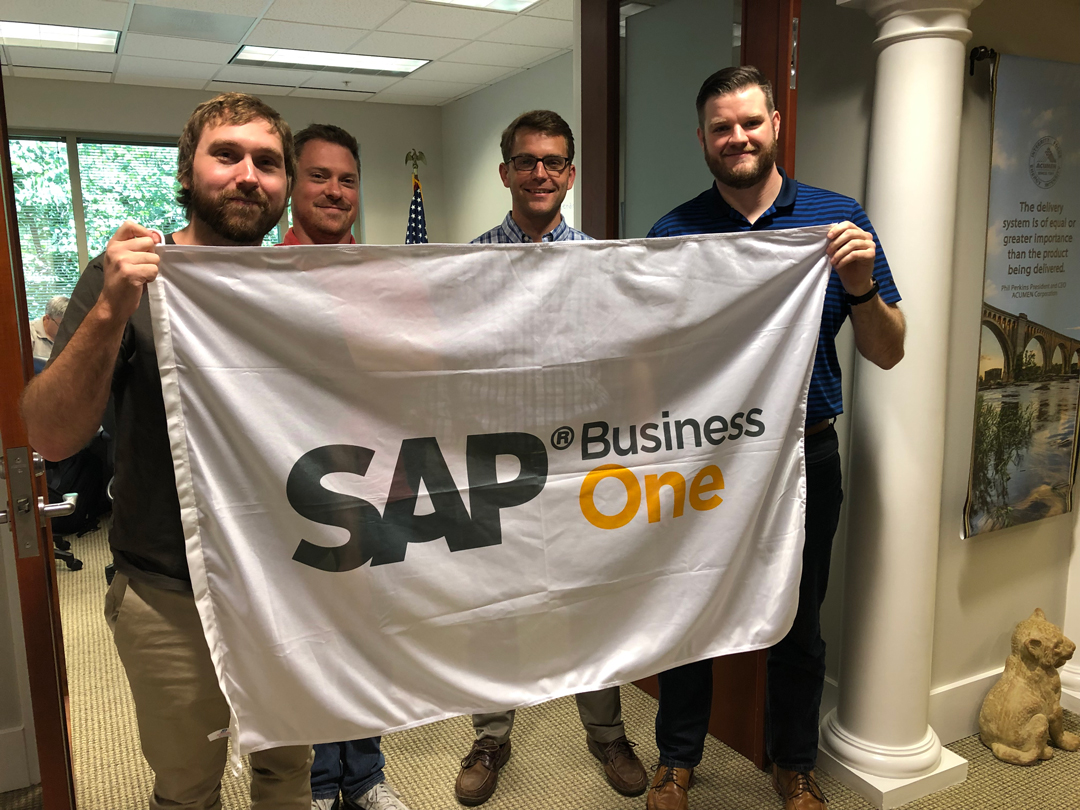 According to TemperPack Vice President of Finance Paul Blocher:
"ACUMEN has been a great partner. This deployment touched nearly every aspect of our operation, and we needed an expert to come in and provide both technology and business acumen to make it a holistic success. ACUMEN has delivered at every step."
TemperPack CEO Brian Powers added this: "SAP BusinessOne® has been a major upgrade to the technology foundation of our business. We're seeing benefits already and are excited about its potential to transform how we work."
About TemperPack
TemperPack® makes packaging that works for businesses, people, and the planet. The company was borne out of a desire to reduce the amount of unsustainable packaging caused by the rise of e-commerce and perishable delivery. Incorporating environmental responsibility into product design, the company specializes in bringing the highest quality packaging solutions to scale. Operating an ISTA® certified Thermal Transport Lab and state-of-the-art production facilities in Richmond, VA and Las Vegas, NV, TemperPack is rapidly expanding its reach in the perishable food and life sciences industries. Our mission is simple: protect products with packaging that protects the planet. To learn more, visit www.temperpack.com.
See the full Press Release of February 21, 2020:
---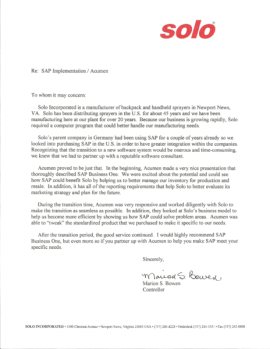 Solo USA, Inc
"After the transition period the good service continued.  I would highly recommend SAP Business One, but even more so if you partner up with ACUMEN to help you make SAP meet your specific needs."
Marion S. Bauer
Controller
Solo USA Inc
---
Barnabas Aid
About Barnabas Aid:   The Barnabas Fund is an international, interdenominational Christian aid agency based in Coventry, in the West Midlands of England that supports Christians who face discrimination or persecution as a consequence of their faith. Founded in 1993 by Patrick Sookhdeo.
Some of our satisfied clients include:
A leading domestic computer manufacturer, operating from a modern campus located outside of Washington, D.C.  They design, manufacture, distribute and support their products from this single location, substantially with their primary ERP software, SAP Business One.
An industrial outdoor equipment manufacturer and distributor of chemical applicators, chain saws, trimmers and brush cutters, and air blowers to name just a few of their products, using our Inventory Optimization software offering.
An international wine producer, and recipient of the 2013 Lifetime Achievemet Award presented by Wine Enthusiast Magazine.  Production extends over more than 4000 hectare of land, 2000 of which are covered with vineyards, assisted by SAP Business One ERP software.
A U.S. affiliate of the world's largest water treatment engineering company. With a rich history dating back to 1894, they provide high performance solutions that result from the latest technological advancements in drinking water, wasetwater and sludge treatment, with the help of SAP Business One software.
A small printing and office supplies and equipment distributor in Richmond, Virginia, relies on CRM software from SAP Business One.
A regional CPA firm who provides audit, accounting, tax and advisory services to individuals and businesses and other professional services firms, and tracks them with our CRM solution.
Our consulting experience, methodologies, and recommended software work well across varous industries.
Client Industries
We have proudly served clients from a wide range of industries, including:
Wholesale Distribution
Manufacturing
Wineries and Vineyards
Healthcare Facility Financial Management
Professional Services
Electronics