"Implementing our new ERP was the best team building experience we ever had!"
Said no one ever.
…but wait – that's been the case for many of our clients implementing SAP Business One's ERP.  And here's why…
ACUMEN Corporation takes client communication very seriously.  When ACUMEN initially engages with a new company looking to grow from QuickBooks, Excel and other cobbled together pieces of software, we do an in-depth Discovery Process of their business model and internal workflows.  This is done in order to enumerate client (prospect) needs. ACUMEN gives the prospect (you) the opportunity to give full approval that we heard exactly what users said during discovery.  Through this discovery process, we have shared a true team building experience between our organizations.  This process is software agnostic and takes place prior to making any recommendations on new systems.
The most common issue found?  Most team members have no idea about other teams' duties and daily needs.  Reason?  The current systems in place create "silos" of data only available to individual groups.  It makes sense that this happens, since each functional area of a company typically handles different tasks and they don't need much else.  Example:  Sales is interested in getting orders in and fulfilled.  Sales has no direct need to see HR's view of absentees for that day.  Likewise, HR does not need to know what new business just shipped.  They are working within their silos.
Now, consider implementing a new ERP such as SAP Business One.  As multiple departments sit at the conference table going through the software's modules, they soon discover that now their software can be integrated to enhance the integrated nature of your relationships and work flow in real time. Sales indeed would benefit from watching inventory levels, back-orders, and available-to-promise, monitoring whether Production has enough inventory via an inventory dashboard, to fulfill the orders they just sold.  Likewise, Purchasing managers, in addition to Operations managers, can see all new business in the pipeline and make buying decisions knowing the need is arising for more inventory in production and service.  The three groups become much more tied together as true teammates – simply because they now have a view of each other's data.
It's a powerful concept and might bend your mind a bit.  Implementing SAP Business One could be the first time a software can be the best team building event you ever have!
What types of modules are available in SAP Business One that tie your business end-to-end?
Financials – P&L, Aging, General Ledger and accounting functions
Sales/CRM – Quotes, Orders, Customer Management and sales pipeline functions
Purchasing – Purchase Orders, Payables, Goods Receipt and supply chain functions
Inventory – Items, Inventory Management, Demand Planning and warehouse functions
Production – Bills of Materials, Productions Orders, Cost Management and planning functions
Service – Warranty Cards, Service Contracts, Service Tickets and RMA functions
Human Resources – Employee Data, Absentee Tracking, Disciplinary records and HR functions
Project Management – Internal and External Projects, Resource Management and planning functions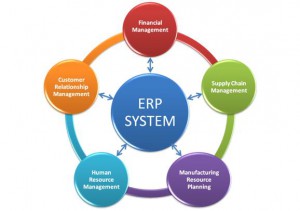 These modules and more are included in SAP Business One ERP.  They effectively tie your business end-to-end under one easy system.
Imagine giving your team authorized visibility into areas that directly affect their day-to-day work currently siloed and invisible to them.  Your company will have the ability to communicate intelligently on issues and opportunities – and also have a better understanding of what other co-workers have on their plates.
Imagine the incredible team building experience it will be working with ACUMEN Corporation experts to give your company workforce this kind of empowerment.  Contact ACUMEN today and your imagination will become your reality.